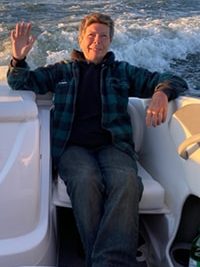 It is with great sadness and heavy hearts that we announce the sudden passing of our very special person. She would give you the shirt off her back or a kick in the butt depending on what you needed. She had a heart of gold and a great sense of humor. She will be missed greatly by the many lives she touched.
Dixie is survived by her loving long-time partner Laura, her sisters Arlene and Phyllis, her aunt Georgia, her long-time friend Dena; her numerous nieces/nephews and great nieces/nephews; her numerous cousins and a multitude of FRIENDS.
She is predeceased by her mom Gwen, her father Dale, her brother Ralph and her uncle Malcolm.
In lieu of flowers, memorial donations can be made in Dixie's name to:
1. NACCS (Northern Alberta Curling Championship Society) towards a scholarship(s) for junior curler(s). Send cheques to T. Morris at 111 – 100 Foxhaven Drive, Sherwood Park, AB, T8A 6B6. Phone: 780-918-8428. Call if you want to transfer money by another method.
2. Tails of Help at tailsofhelp.ca then click on the yellow donate button.
3. Any charity of your choice
Due to the current covid situation and Dixie's wishes there will not be a funeral. As celebration of life will be held with the immediate family at a later date.