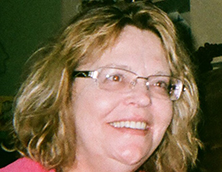 Paulette Boos née Dalziel
Paulette Boos (née Dalziel) of Edmonton, Alberta, passed away suddenly at home on the morning of 28 February 2021.
She will be deeply missed by her devoted and loving husband Ray, son John, mother Madeleine, sister Suzanne and two brothers Ray and Bernie.
She was predeceased by her Father John Leslie in 1965, her nephew Dusty (1984) and her sister Marlene (2017).
While she endured many obstacles and hardships in life, she always managed to overcome and persevere. She will be cherished by her friends and extended family. She will always be remembered as an incredible craftswoman, whose handiwork was painstaking, joyous and limitless.
A collector of many things, she found pleasure in her prized possessions and the way they filled her home with joy.
A memorial service will not be held at this time. Family, friends and others whose life Paulette touched will be able to pay their respects and celebrate her life later in the summer.