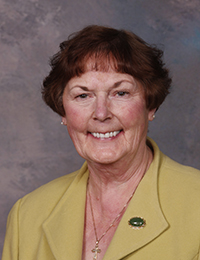 Dianne (Margaret) O'Neill
Dianne passed away while surrounded by her loving family.
Dianne will be lovingly remembered by her Husband Sean, Daughters Lisa (Mark), Anna (Geoff), and Dianne Jr., She is also survived by her Sister Carol Morgan and Dianne's nine grandchildren and one great grandchild.
The family wishes to express sincere appreciation to Dianne's many kind caregivers N.E.Home Care and Edmonton General Palliative Care Hospice on 9Y also to friends and family who prayed for and supported Dianne and her loved ones.
The family members express their gratitude for your kindness during a difficult time.
In light of the changing COVID-19 situation, a Mass and celebration of her life will be announced at a later date.
In lieu of flowers please make donation to Saint Vincent de Paul Society. All Saints Conference.
E-transfer through your bank to All Saints' Conference Bank account, contact president Marlene at pres.all.saints@ssvpedmonton.ca, Suggested question-Deceased All Saints' member? Password- Dianne Receipts will be issued for $20.00 or more.
Benevity's $300,000 Donation Match Campaign through National SSVP Benevity  launched a public 1:1 matching campaign (up to $300,000) for donations made to our organization through our "We Are We" Giving Program' This is our way of supporting our cause, donations will be matched. Benevity issues receipt

Instructions
Go into "We are We" website https://mygoodness.benevity.org/community
Select Make a Donation,
Find a Cause-Type in St Vincent de Paul, All Saints Conference,  Canada
(2 more conferences by same name- Strathroy, Ontario and Coquitlam, BC)
Search , Choose All Saints Conference,  Edmonton  T5A 3C9
View Details and Donate
Donate Now, Method of Payment by credit card or debit or PayPal
Confirm Donation, Payment details, etc
Contact Marlene at 780- 232-3973 for more information
Thank you very much for your donation and Blessings
Please use the following You Tube address to
access Dianne's Video Memorial Tribute
https://youtu.be/1LF7VTRwoWw