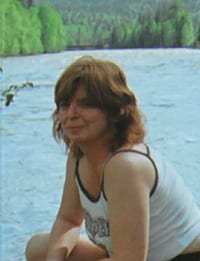 Loretta Lynn Levesque
LEVESQUE, Loretta Lynn, 54, passed away peacefully at the Royal Alexandra Hospital in Edmonton, Alberta on November 19, 2019 after a sudden illness.
Loretta, also known as Mag to her loved ones was born on June 17,1965 in Springhill, Nova Scotia. Mag lived her life to the fullest and always went out of her way to make all who knew her felt welcome and loved. Even if she didn't have a lot to give, she gave all she had. She will be sorely missed by all her family and friends.
Loretta was predeceased by her brother Timothy Rector and Survived by her parents Stanley and Rona Rector of Amherst, Nova Scotia, children Stanley Smith- Rector (Brianna), Therasa Smith, sister Velda Fromm (Barry), brothers Victor Rector(Laura), Stanley Rector (Marcie), John Rector (Coreen), husband Raymond Levesque, companion Ron Berezan and her 5 grandchildren.
At her wishes a cremation was held at Trinity Funeral Home in Edmonton, Alberta and a celebration of her life will be held at a later date when we can take her home.