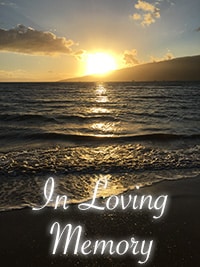 Maurice Gariepy
On Sunday, November 22, 2020, Maurice Gariepy entered eternal life when he passed away at the University of Alberta Hospital at the age of 76.
Maurice Arthur Gariepy was born on May 12, 1944 in Edmonton, Alberta to Harley Gariepy and Theresa (Hutton) Gariepy. His early years were spent in the foothills and in Hinton.
Maurice was a gifted storyteller, argumentative and stubborn to his core, fiercely loyal, and generous to a fault. A few weeks before his passing, he was asked what he would like to be remembered for, and his answer was simple: "I have a soft heart." Maurice cared deeply about his family, friends, and even strangers who faced hardships, which mirrored his own early struggles in life.
Maurice liked to reminisce about his family's Métis ancestry, his days working at the Kingsway Hotel in Edmonton, and his adventures with close friends. His favourite pastimes included playing cards, especially crib, golfing, and being in the mountains. He treasured simple family moments, like Sunday dinners and spending time with his cherished grandchildren, Gavin and Geneva. In his later years, he devoutly watched daily mass on television and recited the rosary.
Maurice will be missed by his wife, Jeanette, daughter Tanya (Dustin Thiessen) son Jason and grandchildren Gavin and Geneva. He is survived by his brothers David, Don, Hugh, and Michael. He has been reunited with his beloved father and mother, his closest friends, Bill, George, and Rocky, as well as by his predeceased siblings (Carmen, Denise, Joanne, Patrick, and Paul).
Maurice possessed few sentimentalities. In his memory, he would simply ask you to call or spend time with a loved one who may be lonely or if you have crossed paths with someone who is in need to show kindness and offer what you can to help them.
Due to COVID restrictions a private family service will be held a later date.