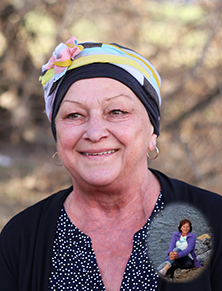 Elzbieta 'Ela' Jacewska
October 27, 1956
-
June 10, 2021
It is with great sadness we share the news of the peaceful passing of Elzbieta 'Ela' Jacewska, at the age of 64, on June 10, 2021, at the Misericordia Hospital in Edmonton, Canada. Ela was born on October 27, 1956 in Miejska Gorka to parents Jordan and Joanna Murlewski. She is survived by her husband Janusz, and her daughter Marta. She will be remembered by family in Poland and Germany and many friends and coworkers in Alberta.
Ela was happiest spending time outdoors whether she was camping, mushroom picking, or fishing. She also enjoyed time in her yard gardening and completing crossword puzzles.
A gathering to celebrate her life will be held at a later date. Donations can be made to the Alberta Cancer Foundation.
A Mass will be held on Thursday June 17, 2021 at 9:15 a.m. (MDT) and due to restrictions attendance in-person will be arranged by invitation only. For those wishing to attend virtually the Mass will be live streamed online at www.hrp.ca.
~~~~~~~~~~
Z wielkim żalem i smutkiem, ogłaszamy smierć Elżbiety Jacewskiej, która odeszła z tego świata 10 Czerwca 2021, mając 64 lat.  Odeszła spokoju, w obecności ukochanego męża i ukochanej córki, w szpitalu Misericordia, w Edmonton, Canada. Ela urodziła się w Miejskiej Górce, z rodziców Jordana i Joanny Murlewskich. Pozostawia męża Janusza i córkę Martę, oraz dalszą rodzine w Polsce i w Niemczech.
Ela najchętniej spędzała czas na świeżym powietrzu, czy to biwakując, łowiąc ryby, czy zbierając grzyby. Lubiła też spędzać czas w swoim ogrodzie i rozwiązywać krzyżówki.
Ela zostanie zapamiętana przez rodzinę oraz wielu przyjaciół i współpracowników. W późniejszym terminie odbędzie się spotkanie upamiętniające jej życie.
Dotacje można przekazać na rzecz Alberta Cancer Foundation.
Msza odbędzie się 17 Czerwca 2021, o 09:15 (MDT). Będzie transmitowana na żywo, pod adresem www.hrp.ca