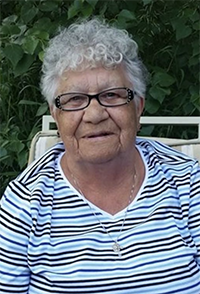 Agnes Cardinal
Our beloved mother Agnes Cardinal was welcomed into the arms of Jesus, to be reunited with her beloved husband, George, in Edmonton, Alberta on October 4, 2020.
Unfortunately, due to the hospitals Covid-19 rules, only one family member was allowed to spend the nights with our dear mother. But, the family will forever be grateful to the Chaplain and to Carol from Public Relations at the Grey Nun's Hospital who made special considerations so that most of mom's family were able to see her.
Our beautiful mother's memory will be forever cherished by her children, Cecilia (Vern) Petryshyn, Florence Cardinal, Jerry (Marie) Cardinal, Dennis (Christina) Cardinal, Susan (Joe) Tremblay, Delores (Lyle) Langan, David Cardinal, Randy (Beverly) Cardinal, Stewart (Janis) Cardinal.
Also left to cherish their Granny's memory are 23 grandchildren, 29 great grandchildren and 1 great, great granddaughter.
Mom was predeceased by her children Alvina (spouse Darcy Beattie), Jack (spouse Flora Cardinal), MaryLou Cardinal, Archie (Infant)and Linda (Infant). Parents Annie and Julien Cardinal. Brothers Archie, Eddie and Abe. Sisters Eva and Lucille.
Cremation has taken place, and according to mom's wishes, there will be a memorial service, where internment will take place, in Chetwynd, BC, in the spring of 2021.
If anyone so wishes, donations will be graciously accepted for David Cardinal, who was mom's caregiver since our fathers passing to help cover expenses.
We Watched You Suffer
We watched you suffer,
We watched you sigh.
But all we could do,
Was just stand by.
When the time came,
We suffered too.
For you never deserved
What you went through.
God took your hand,
And we had to part.
He eased your pain,
But broke our hearts.
If you could have spoken,
Before you died,
These are the words
You would have replied.
This life for me,
Has truly passed.
I have loved you all,
To the very last.
Weep not for me,
But courage take.
And love one another,
For my sake.