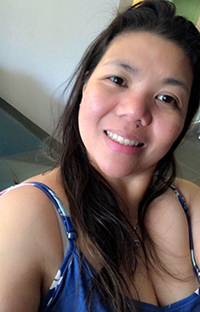 Analyn Bowen
January 12, 1979
-
September 6, 2021
On Monday 6th of September, Analyn Bowen loving wife and mother of our two children passed away at the age of 42.
Analyn was born on the 12th of January 1979 to Viluraville and Luthguardia Aguilar. She attended University recieving several qualifications, and dedicated the last seven years of employment to
the Tofield seniors lodge.
On the 17th of May 2014 she married Harold (Rick) Bowen, they were in the process of raising their two sons Allison and Cyrill.
Analyn loved family and found her way into all of our hearts with her perfection in cooking and baking.She smiled continuously and possessed an infectious aura of happiness at all times.
With her love for the Lord she walked through her life righteously without regard to drinking, smoking or any use of drugs.
Pure as she was cancer still intervened and she is now sadly missed by the many lives that she selflessly brightened each day.
She leaves behind in addition her two brothers Venus (Aireene, Ivy, Juliana and Andre), Bryan (Arlyn) and numerous family members.
Viewing will be from 2:00 pm - 4:00 pm Sunday 12th of September at Trinity Funeral Home, located at 10530-116st. N.W. Edmonton.
Funeral Service will be Wednesday September 15th at 2:00 pm at Christs Commission Fellowship, Located at 9333 – 199 Street Edmonton with Pastor Jeff Basco officiating.
If friends so desire, donations can be made in Analyn's name to the charity of one's choice.