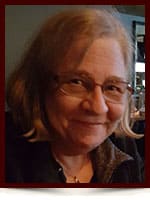 Anna Hrebien
Anna Hrebien, October 19th, 1953 - September 20th, 2015
It is with great sadness and heavy hearts that my Family and I inform you that My Mom, Anna Hrebien passed away on September 20th, 2015 at the much too early age of 61 years young after a battle with Lung / Brain Cancer.
Anna passed away peacefully while in the care of the Norwood Hospice in Edmonton.
A gathering of family and friends was held at the Trinity Funeral Home in Edmonton on Saturday September 26th 2015 and she was committed back to God and was laid to rest at the Holy Cross Cemetery in Edmonton on Monday September 28th 2015.
She is survived by her Son John Paleologos (and Family), her Mother Yvonne Hrebien (Besner), her Brother Harry Hrebien (and Family) and her Sister Terry Hrebien (and Family).
She was pre-deceased by her Father Michael Hrebien in 1998.
Mom, I leave this prayer here and offer it up for your soul and for all the souls of the most faithfully departed and I ask that anyone and everyone who may want to please also say this prayer with you in mind. I know the affinity you have for the Virgin Mother so it is to her that we pray...
Hail Holy Queen, Mother of Mercy, our lives our sweetness and our hope.
To Thee do we cry, poor banished children of Eve. To Thee do we send up our sighs, mourning and weeping in this valley of tears.
Turn then most Gracious advocate, Thine eyes of mercy toward us and after this - our exile - show unto us the blessed fruit of Thy womb Jesus.
O clement, O loving, O sweet Virgin Mary... Pray for us O Holy Mother of God, so that we may be made worthy of the promises of Christ.
May your Devine assistance remain always with us and May YOUR soul and all the Souls of the most faithfully departed through the mercy of God rest in peace... ... ...
AMEN!
I love you Mom... xoxoxo... <3
John Paleologos