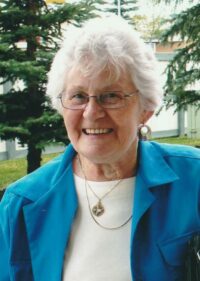 Anna Jensen (Christensen) Russell,
May 14, 1930
-
May 1, 2022
It is with both great sadness and relief that Mom passed quietly. She left us to join her parents, two husbands, three younger brothers and her youngest son. She leaves her twin siblings, George and Elisbeth, her children, (Mark (Gisele), James, Jane and Bruce), six grandchildren (Megann(Ian), David, Eric(Ashley), Kymberly, Daniel (Olivia), Jarvis (Paige)), ,four great grandchildren, many friends, neighbor's and colleagues.
Mom was a loving and caring mother, a devout Christian with a very strong faith in God. She grew up on a dairy farm west of Calgary in the dirty thirties. Eldest of six children, she pulled her weight from an early age. She was very proud that she had attended Camrose Lutheran College. After marrying Otto Christensen, they moved north to the Athabasca area. They raised five children scrimping to make ends meet on a farm too small to sustain itself. She bore the brunt of child rearing when dad had to work away at labor camps and construction jobs. Her work varied from: a caregiver at the local nursing home, wrapping meat in an Abattoir, office clerk and column writer for the The Athabasca Advocate newspaper, and a secretary at Athabasca University. She continued her writing in church bulletins for years after retirement and typed and edited self published books written by her two brothers. Mom also typed and edited a biography written by our father.
Anna was a talented pianist and played the piano or organ for church, for dances or for fun. She was an accomplished seamstress and would often make, alter, re-purpose or repair our clothes until the pieces were too small to do anything with. She loved to crochet and knit and quilt, especially for Church mission drives. She made literally hundreds of mittens, toques, other clothing items and blankets. Mom beat cancer in her early 60's, and a large ovarian tumor in her 80's. She loved her grandchildren very much and was so happy when she became a great-grandmother. We'll miss you mom, but we know you are at peace now and we will one day meet again. 
Celebration of live service will be at Hope Lutheran Church at 5104, 106 Ave, Edmonton, Ab. On 14 May 2022 at 11:00a.m.
Her request is for donations to Canadian Lutheran Bible Institute in Camrose, or a charity of your choice.