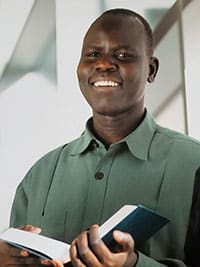 Athiann (James) Makuach Garang
I am very saddened, and with deep sorrow to announce the passing of my brother James Athian on February 15, 2021, in Edmonton, Alberta, after a short battle with cancer.
James was born in Sudan, Africa on July 25, 1977. When he was 12 years old, he ran away from home because of political violence in his homeland. He went to refugee camps where he spent 15 years before being accepted to Canada as a refugee claimant. He was settled in Edmonton, Alberta with myself, cousin Garang and uncle Athian Deng.
James went to Norquest College. After completing his studies at Norquest college, he went to the university of Saskatchewan where he graduated with an Engineering degree.
He started work at Canada Post Corporation more than five years ago at the Edmonton Main Processing Plant. He was working for Canada Post when he passed away. James was well loved by his coworkers at Canada Post Corporation. He was such a jovial and friendly person and everyone will miss his smile.
He leaves behind his loving wife Achol, his son Joseph Athiann, mother Ajot, uncles Athiann Deng, Benjamin Mathok, brother Akech, sister Ayen, nephews and nieces.
He was a devout Christian. He was a beloved brother to his fellow church members. He belonged to the Seventh-Day Adventist church where he was elevated to position of Elder before he was old enough to be called "elder".
James and I have shared our lives together since childhood. And we still shared our town house until the day he passed away. He has left a big void in my life. He will be greatly missed by me and the rest of our family and his friends and by all those who knew him.