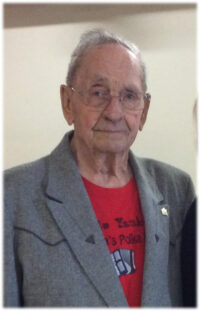 August Tschritter
April 18, 1930
-
May 17, 2023
Today we honor the life of August Tschritter, a remarkable man whose presence brought joy and wisdom to all those fortunate enough to know him. Born in 1930, August embraced a life filled with love, laughter, and an unwavering spirit. August was a devoted husband and father of six, leaving behind a legacy of family that spans generations, with countless grandchildren and great-grandchildren who were blessed to have him as their patriarch.
He was a man of many talents, a master of building and fixing anything that crossed his path. His skillful hands and boundless knowledge were generously shared with his children, instilling in them not only practical abilities but also invaluable words of wisdom.
A true gentleman with a heart of gold, August touched the lives of everyone he encountered. His infectious sense of humor and quick wit brought laughter to any room, leaving lasting memories of his funny anecdotes and clever remarks. He saw the world through a lens of levity, finding joy even in the face of adversity.
Beyond his craftsmanship and humor, August possessed a deep passion for music, nurturing his talent as a self-taught musician. His melodies resonated with his soul, and the love he had for music enriched the lives of those around him. Additionally, his affection for animals was evident, as he found solace and companionship in their presence.
Growing up during the tumultuous times of the Second World War, August faced the hardships of being of German ancestry, enduring the painful experiences of bullying and prejudice. However, he rose above the challenges, defending himself and his family with unwavering strength and resilience. Despite these trials, August remained humble, never boasting of his own accomplishments and always embodying the essence of humility. August's character was as multifaceted as the stories and memories we cherish today.
Though there is so much more to say about him, it is likely that he would divert the attention away from himself with a quick and witty remark, perhaps even at his own expense. As we bid farewell, we acknowledge that the great unknown awaits him, and whatever mysteries lie beyond will now be graced by his remarkable spirit. In the presence of August Tschritter, we were blessed to witness a life well-lived, filled with love, laughter, and an unwavering determination to find joy in every moment. May his spirit continue to inspire us as we carry his memory in our hearts.
Rest in peace, dear August.