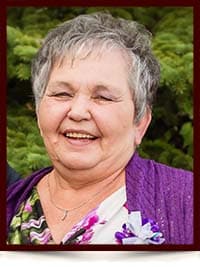 Barbara Jean Silvius
July 7, 1947-

December 14, 2017
It is with heavy heart we must say goodbye to our beloved Mom at the age of 70 years.
Barb is predeceased by her husband of 49 years, Casey (Cornelius) Silvius by just one year, one month and one week.
She is survived by her 3 children, Kim (Roger) , Robin (Jesse), and Tim (Annie) and by her 3 grandchildren, Angelee, Lorelei and Theodore.
She was a great wife, mother and an amazing grandmother.  Almost nothing could bring more joy and laughter to her than her grandbabies.
Barb was also a devote Edmonton Oilers fan who even though she would curse at the TV from time to time, she never wavered in her love for the orange and blue.
She will be missed by her children and grandchildren who love her more than words can say.
Celebration of  Life
Wednesday December 20, 2017 2:00 PM
Trinity Funeral Home.
10530 116 Street, Edmonton AB.