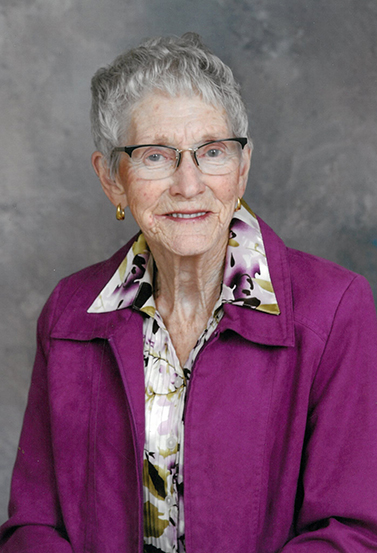 Jean Ursulak (nee Roberton)
September 10, 1933
-
April 1, 2023
Jean Ursulak (nee Roberton) passed away peacefully on April 1, 2023 at the age of 89. She will be missed by her daughters Judy (Warner) Kunz and family Stefan (Jessi) Kunz, Graham (Claudia) Kunz; Wendy (Jim) Carey and family Adam (Morgan) Carey and their daughter Ramona, Daniel (Yasmin) Carey and their twins Jenna and Jordan; Marie Schulte and her family Colin (Alana) Schulte and Carmen Schulte.
She is also survived by her sisters Margie Rowe and Chris (Werner) Wennekamp, members of the Ursulak family and many nieces and nephews.
Jean was born on Belmont Farm near Lloydminster, Alberta to Dick and Barbara Roberton. In 1951 she entered the Vegreville School of Nursing, graduating in 1954. During her training in Vegreville she met Alex, who she married in 1956. She was a devoted nurse, dedicating her career to spinal cord injuries. After retirement she continued to contribute to the community. She was an active volunteer in her church, the University of Alberta Hospital and the Spinal Cord Injury Treatment Center Society (SCITCS). Jean and Alex enjoyed travelling, visiting many places in the world and spending winters in California. She treasured time with her family, especially her six grandchildren and three great grandchildren.
A memorial service will take place April 10, 2023, at 2 pm at Ottewell United Church, 6611-93 A Avenue NW, Edmonton, T6B 0X1. Following the service, family and friends are invited for fellowship and refreshment at the church.
Memorial donations may made to Ottewell United Church or SCITCS PO Box 76007 Southgate, Edmonton, AB, T6G 0H7.