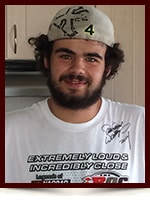 Benjamin Emil Paul Kopeck
On May 17, 2017, Benjamin Emil Paul Kopeck of Edmonton, Alberta, passed away suddenly at the age of 20. He is survived by his loving mother Terri Bacon, stepfather Greg Charters, younger sister Natasha Charters, Grandmother Marilyn Bacon, Baba Mildred Kopeck, along with numerous aunts, uncles, and cousins.
In the afternoon of April 5, 1997, Ben was born in Slave Lake, Alberta. Within a month he and his mother moved to Edmonton so they could be with her family. Ben spent his early years in Edmonton. He attended playschool, kindergarten and elementary school at High Park and, later, Mayfield Elementary.
When his mother and her partner Greg decided to bring the family together under one roof, Ben moved to St. Albert. He attended junior high at WD Cutts and later attended Bellerose Composite High School. He chose Bellerose for its outstanding Automotives courses and its apprenticeship opportunities.
Ben loved all sports. He started at a very young age playing soccer and baseball before moving up to hockey, ball hockey, lacrosse, and then football. He also enjoyed swimming, fishing, and skateboarding. He had the opportunity to try his hand at whitewater rafting and surfing. Ben enjoyed watching wrestling and loved the local wrestling promotion, the "Prairie Wresting Alliance".
Ben enjoyed a wide variety of music. He was never set on a single style; he liked everything from classic rock to country. He loved the harmonies of the Beach Boys, country star Tim McGraw, pop star Taylor Swift, Canadian Hip Hop artist Kazzer, Industrial artist Skrillex, among others.
While he did not grow up while many classic television series aired, Ben enjoyed such shows as "The Rockford Files", "The Dukes of Hazzard", and "Columbo". He was also a big fan, like many, of the zombie show "The Walking Dead". Ben liked movies. He followed the entire "Harry Potter" series, and the "Taken" series, starring Liam Neeson. He enjoyed the Marvel superhero movies. Ben was a huge fan of "The Fast and the Furious" movie franchise. "The Fate of the Furious", the eighth movie in the series, was the last movie he and his mother saw together.
Along with a love of animals and pets of all kinds, Ben enjoyed a few hobbies. As a youngster he collected rocks and stones, and even attended rock and gem shows. As he got older, Ben had a Zippo lighter collection that he was proud to show off, along with his collection of hats. After he moved to St. Albert, Ben took up the classic car hobby.
He loved classic cars, and learned to drive on a 1964 Chevrolet Bel Air. As a member of the St. Albert Cruisers, Ben's first car was 1964 Pontiac Parisienne. At fourteen years old, Ben was one of the youngest drivers to ever drive the cruise at the annual Rockn'August car show in St. Albert, in a 1967 Chevrolet Chevelle. Ben wanted to follow in the footsteps of his Uncle Jace and become a mechanic.
Ben loved the outdoors and enjoyed spending time with family at his grandparents' lot on Buck Lake. He felt most at home when fishing, boating, hiking and exploring.
In his short life, Ben had a few jobs. His first job was at McDonalds. He was fourteen when he started, and quickly took to the many roles required of the employees. After awhile, he decided to "branch" out and applied to work in the Walmart seasonal section, selling trees, plants, and outdoor furniture. Through the Apprenticeship program at Bellerose Composite High School, he worked for two companies as an apprentice heavy duty mechanic: first Calco, and later Kingpin Trailers.
To celebrate his 20th birthday, Ben enjoyed a full meal of delicious steak and seafood at Red Lobster. It was a meal fit for a king. It was the last meal he would share with his family. In just over a month, he would tragically pass away of an opiate overdose.
The opiate epidemic has reached a crisis level. In the first three months of 2017, in Alberta there were 113 fentanyl deaths, more than one death per day, every day - an increase from 70 deaths during the same period in 2016.
The author of the following passage is unknown, but the message is very powerful:
OPIATES - I destroy homes, tear families apart,
Take your children, & that's just the start.
I'm more costly than diamonds, more costly than gold,
The sorrow I bring is a sight to behold,
& if u need me, remember I'm easily found.
I live all around you, in schools & in town.
I live with the rich, I live with the poor,
I live down the street, & maybe next door.
My power is awesome; try me you'll see,
But if you do, you may never break free.
Just try me once & I might let you go,
But try me twice, & I'll own your soul.
When I possess you, you'll steal & you'll lie.
You do what you have to just to get high.
The crimes you'll commit, for my narcotic charms
Will be worth the pleasure you'll feel in your arms.
You'll lie to your mother; you'll steal from your dad.
When you see their tears, you should feel sad.
But you'll forget your morals & how you were raised,
I'll be your conscience, I'll teach you my ways.
I take kids from parents, & parents from kids,
I turn people from God, & separate from friends.
I'll take everything from you, your looks & your pride,
I'll be with you always, right by your side.
You'll give up everything your family, your home,
Your friends, your money, then you'll be alone.
I'll take & take, till you have nothing more to give.
When I'm finished with you you'll be lucky to live.
If you try me be warned this is no game.
If given the chance, I'll drive you insane.
I'll ravish your body; I'll control your mind.
I'll own you completely; your soul will be mine.
The nightmares I'll give you while lying in bed,
The voices you'll hear from inside your head,
The sweats, the shakes, the visions you'll see;
I want you to know, these are all gifts from me,
But then it's too late, & you'll know in your heart,
That you are mine, & we shall not part.
You'll regret that you tried me, they always do,
But you came to me, not I to you.
You knew this would happen. Many times you were told,
But you challenged my power, & chose to be bold.
You could have said no, & just walked away,
If you could live that day over, now what would you say?
I'll be your master; you will be my slave,
I'll even go with you, when you go to your grave.
Now that you have met me, what will you do?
Will you try me or not? Its all up to you.
I can bring you more misery than words can tell.
Come take my hand, let me lead you to hell...
Funeral Service
2:00PM Wednesday May 24, 2017
Trinity Funeral Home
10530-116 Street Edmonton, AB