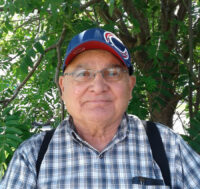 Bernie (Bernard) Iseke
May 27, 1937
-
February 27, 2022
Bernard (Bernie) Iseke
May 27, 1937 – Feb 27, 2022
It is with much love and gratitude for a life well lived that we announce the passing of Bernie Iseke (formerly of St. Albert) at the age of 84, on Sunday, February 27, 2022, in Stony Plain, AB.
Bernie grew up in St. Albert and built his family home there, where he lived for 52 years. The last 8 years he lived in Stony Plain. He was a devoted son, husband, brother, father, grandfather, great grandfather and friend to many. He was truly a family man, filled with kindness and compassion for others.
Bernie was a hard worker who spent long hours in the tire repair shops and later as a long-haul trucker. His love of the open road led to many years of family and personal travel across North America. He was a 10-year member of the St. Albert Volunteer Fire Department.
Bernie leaves behind Carol, his wife of 61 years, his two daughters Bev (John) and Judy, 6 grandchildren, and 5 great grandchildren as well as his brother and 2 sisters. He is predeceased by his parents Herman and Lillian, his brother Firmin and sister Doreen, and his grandson Bruce.
The family wishes to express their gratitude to the staff at the Good Samaritan Stony Plain Care Center for their kindness, compassion and care. A private family Celebration of Life will be held at a later date.