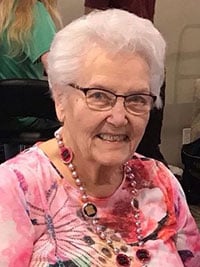 Betty Lucille Mackie
Wife, Mother, Granny
Born August 11th, 1928 and passed January 29th, 2019 at 90 years of age. Betty leaves to grieve her passing & honour her memory: Husband David Mackie, Sisters Hazel Morrill, Jean Hunter, Brother Jim Sinclair. Children Irene Holland, Vivian Jenkins (Rod), Mary Morrison (Bill), John Jenkins (Darlene), Brenda Jenkins (Mike) and their extended families.
Betty's life began as the third of eight children; she worked hard as her fathers favourite farmhand. She married her first husband (Jack Jenkins) and had 5 children. Betty was widowed as a young woman and became the sole provider and parent to her children, Her strong work ethic served her well in this role. She was an independent and strong-willed women with a quick wit. She communicated directly and honestly; which was a favourite to friends and family. Betty had a unique and close relationship with each family member; giving subtle advice and remarks that influenced their lives. Once the children became adults Betty married David Mackie and they were partners for over 40 years.
We know Betty is enjoying family and friends that passed prior.
We love you. We miss you. We will see you again.
At Betty's request, no service will be held.