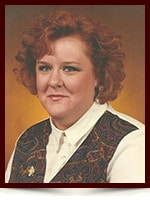 Beverlee J. Moser
October 28, 1957- July 25, 2017
With profound sadness we announce the passing of Beverlee Joanne Moser on July 25, 2017, after a courageous one year battle with breast cancer. At age 59, she left her earthly family to set up "Haircuts in Heaven". She was met by her dad, Joe; older sister, Ruth and niece, Kimberlee who went ahead to scout out a good location for her to continue her hairstyling passion. Bev is loved and remembered by her mom, Maxine; sister Daralyn (Bill); nieces Katherine (Jesse), Krystina (Chris), and Heather (Brandon), along with nephews Bart (Kylie), and Christopher (Oralie); and best friend Laurie.
Bev was born and raised in Edmonton. She enjoyed taking photos of her travels and camping trips whether it was Hawaii, or various mountain parks and lakes throughout western Canada. Bev loved attending the Edmonton Folk Festival and spent many vacations listening to the North American music talent gathered in Edmonton. In her younger years she gathered an eclectic, treasured and pampered collection of albums ranging from Nat King Cole to Aretha Franklin, The Beatles and Cindy Lauper. Bev could be relied upon to use her artistic know-how and skill with friends and family to make floral arrangements, handmade fondant and chocolates, gingerbread houses, and Christmas decorations to name a few. Bev enjoyed crafting counted cross-stitch pictures, many of which she gave as gifts of love to family and friends. Bev will be remembered as a private person who lived her life well, enjoyed the simple things in life and could be relied upon to go to her clients homes to keep them looking beautiful when they were no longer able to get out to the hair salon.
As per Bev's wishes, rather than holding a memorial service, she hosted her own Celebration of Life dinner in early July with family and close friends. Cremation has occurred.
The family wishes to thank Dr R Wong for his many years of care and attention, and her various Oncology doctors and Allied Health staff at the WW Cross, the Edmonton Zone Palliative Team and the Norwood Palliative Care Team for the caring, personalized, and dedicated care Bev received .
If you wish, donations may be made to the Alberta Cancer Foundation at 710, 10123- 99 St, Edmonton, T5J 3H1 or online at www.albertacancer.ca