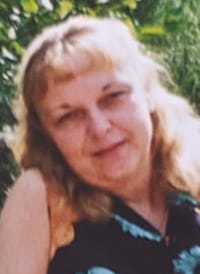 Brigite Pinter
September 16, 1958 – September 18, 2019
It is with heavy hearts that we announce the sudden passing of Brigite Pinter on September 18, 2019 at the age of 61.
A loving mother and devoted grandmother, she is remembered by her children Kristin (Barry), Kerri, and Karla (Leo), grandchildren Layla, Lennon, and Christopher, mother Hermine, siblings Karl, Rudy, and Marlene and many friends.
Mother, Grandma (gaga), sister, daughter, and friend - taken from us way too soon.
Even though our hearts are broken, she will always be remembered with a smile by all who knew her.
She didn't have a lot of money, or fancy clothes - but she had the biggest heart - and that meant more and was worth more than even the most priceless jewel.
She always gave everything she had to her children - always loving, selfless, supportive, and nurturing.  Not only a mother, but a best friend.
When her children were grown, she devoted her life to taking care of her own mother.  Taking care of her affairs, meeting with doctors, and going for visits.  Even when her own health was failing, she never stopped and always put herself last.  She did this all even without thanks or praise, because that's the kind of person she was - she would sacrifice her own well being to help someone else.
Anyone that had the privilege to meet her, loved her.  She could make a complete stranger feel welcome with a smile and simple conversation.  To be around her was to be in the presence of someone great.
She only had a few short years to enjoy being a grandma, and she loved her grandchildren more than life itself.  She would spoil them any chance she got.
As we say goodbye, we remember with fondness her love, her laugh, and we keep all our memories in our hearts.  The world would be a better place if we could all be just half as great as she was.
In lieu of flowers, donations to the University Hospital Foundation designated to the Mazankowski Alberta Heart Institute would be appreciated by the family.
Celebration of Life
2:00 Friday September 27, 2019
Trinity Funeral Home
10530 116 Street, Edmonton, AB