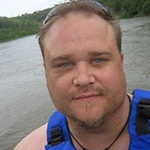 Christopher Douglas Jones
October 1, 1977
-
May 11, 2021
The family is very saddened to announce the passing of Chris Jones.
He was born in North Battleford and lived in Saskatoon, Shawinigan and Calgary before returning to Saskatoon where he attended Holy Cross High School and forged life-long friendships. Chris moved to Edmonton in his early twenties where he lived for the remainder of his life.
Chris was a talented athlete in his youth and he had been an avid kayaker, dirt biker and skateboarder. He had a keen wit and was a master of cheesy puns. He was a storyteller, weaving his daily life events into tall tales. He had a passion for cars and an eye for a deal so he liked nothing better than to find a vehicle that was half the price he thought it was worth. One of Chris' favourite activities was to go for long drives and he especially enjoyed taking his grandparents along on these adventures.
He loved his cat and he was very connected to his sister and her family. Chris was a big man with personality and heart to match.
Chris was predeceased by his grandparents Jim and Roseline Labossiere, and Ted and Olive Jones.
He will be missed by his parents Marcelle Labossiere and Lance Beswick, and Doug and Julie Jones; by his sister and family Angela and Phil Ibbotson and Logan, Abby and Maddy; and by many aunts, uncles, cousins and friends.
A family memorial service will take place in the coming days.
In lieu of flowers, please consider making a donation to the Heart and Stroke Foundation (www.heartandstroke.ca) – Donations/In Memory.