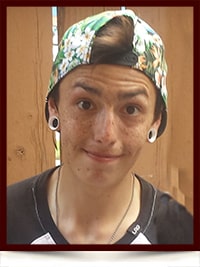 Cody Michael Heasley
On September 24, 2016, Cody passed away at the age of 20.
Cody will be lovingly missed by his mother Shannon Carlson, brother Timothy Carlson and grandparents Maureen and Randie Carlson and Janette and Andre Longtin.
Cody was born with a heart condition that he struggled with but, never let it keep him down. He loved BMXing, baking and was an incredible artist. His outgoing spirit will live on in our hearts forever.
Celebration of  Life
Tuesday October 4, 2016 at 2:00 pm
Trinity Funeral Home
10530 116 Street, Edmonton.
In lieu of flowers, donations can be made to the charity of one's choice in Cody's name.