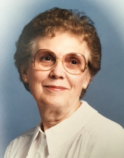 Delores Marguerite Dow
January 31, 1924
-
November 22, 2021
Delores Marguerite Dow, beloved wife and mother, passed away November 22, 2021 at the age of 97. She was predeceased by her husband, Leo Dow, and is survived by her children, Cheryl (White), Kent, Linda (Lambert) and sister, Sandra (Walters). She was predeceased by her siblings, Elmer, Jean (infant), and Marlene (Umbach).
Delores was born in Kitchener, Ontario to George Arndt and Lydia Willis. Early in her married life she moved to Southern Alberta and later had a career in banking at the Treasury Branch. Her focus was always on her family first and work second. Delores shared the skill of her talented hands and mind with so many. She has made literally hundreds of knitted, crocheted and sewn creations.
She was a member of the Church of Jesus Christ of Latter-day Saints and was proud of her Eastern Canadian pioneer heritage and her family. She is remembered by 17 grandchildren, 44 great grandchildren and 7 great great grandchildren.
Interment in Magrath Cemetery