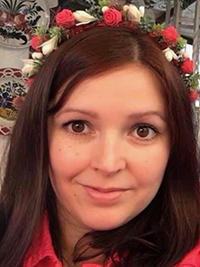 Derevianko Iryna Vasylivna
June 09, 1986 – May 09, 2022
It is with heavy hearts we announce the sudden passing of Derevianko Iryna Vasylivna on May 09, 2022 at the age of 35.
Iryna will be dearly missed by her loving husband Mykhaylo (Misha) Derevyanko and their two young children; Anna-Mariya and Martin; her mother Sayiv Galyna Stepanivna, brother Gogilchyn Igor Vasylovych of Ukraine; parents in law Derevianko Moria Vasylivna and Derevianko Vasyl Myhailovych of Ukraine, brother in law Derevianko Vasyl Vasylouyeh of Ukraine, and "Canadian mom" and friend Debra Harrison, Sherwood Park.
Iryna is also survived by many close extended family and friends in Ukraine and in Canada. Iryna was predeceased by her father, Gogilchyn Vasyl in Ukraine, July, 2019.
Iryna attended Dzvynyach Secondary High School in Ukraine, then graduated from Ivano-Frankivsk Institute of Management. She worked at the bank "Finance and Credit" in Ivano-Frankivsk, Ukraine, before coming to Canada in 2014.
Iryna was a devoted mother and wife who cared deeply for her family and friends. Iryna was a "Super Wife", the best wife a man could ever dream of, and the most beautiful girl her husband has ever met. She loved her kids to the moon and back! Iryna was the best mother, wife, sister and daughter. Iryna loved life so much, and was a bright light for those around her.
The family enjoyed trips to Ukraine, Cuba and Jasper as well as fishing, community events and back yard bar-b-ques. Iryna was always hospitable and made people feel welcome in their home. She had a compassionate spirit with a passion of caring for others. Iryna volunteered tirelessly to collect medical and humanitarian supplies for the people of Ukraine during the last weeks of her time with us.
Besides her family, one of Iryna's proudest moments was earning her Canadian Citizenship in September, 2021.
Celebration of Iryna's Life
10:00AM Monday May 16, 2022
Trinity Funeral Home
10530 -116 Street, Edmonton AB
Memorial Donations may be made to the aid of medical and humanitarian supplies to Ukraine.