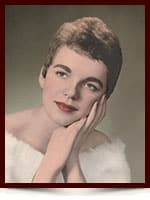 Dolores Lorraine Magus
On July 15, 2015, Dolores passed away peacefully with her son Jay by her side.
She will be lovingly remembered for her outgoing personality, generous nature and sense of humor by her son Jay, brothers Richard, Gerald, Ken and Marvin, sisters Rosalette and Karen, sister-in-law Helene Magus and many nieces and nephews.
She was predeceased by her loving husband Dr. Ray Magus, son Deane, brother-in-law Zen Magus and parents Floyd and Mary Toma.
To respect Dolores' wishes, a private celebration of her life will be held at a later date.
In lieu of flowers, donations can be made to The Cross Cancer Institute in Dolores' name
Contact Information:  [wpseo_address oneline="1" show_state="0" show_country="0" show_phone="0" show_phone_2="0" show_fax="0" show_email="0"]