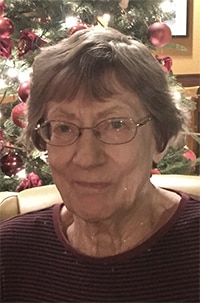 Doris McAllister
We mourn the passing of our beloved mother Doris McAllister after a severe stroke.
She was born to pioneers Lorne and Hazel Cornfield and was raised on a grain and livestock farm near Edgerton, Alberta with sister Jean and brother Ken.
Doris thrived at a boarding high school, Christian Training Institute, in Edmonton 1952-54. She then joined her parents in BC where she was secretary to the C/O at Canadian Forces Base  Camp Chilliwack. She married Malcolm McAllister in 1956; they moved to Yellowknife, NWT and started a family. Over the years they lived in several provinces and the high Arctic in the NWT with their five children. Later Doris trained in accounting and worked 17 years at the University of Alberta Hospital Finance, Edmonton. In her retirement she worked as a pollster with Angus Reid, in telephone customer service winning over even the most disgruntled customers and with Census and Elections Canada getting to know all her neighbours. She enjoyed spending winters in Vancouver.
Doris is remembered as a loving mother, a caring friend, a devoted servant of Jesus and an eternal optimist. She had a 'pep in her step' and a pocket of smiles. We always counted on Mom for love, support and advice. She is deeply missed.
Doris was predeceased by her parents, her daughter Darlene (1978), her brother Ken (2005), her children's father Malcolm (2020). She leaves to mourn her sons Ken (Hiroko) Tokyo,  James, Richmond, BC, Dwayne (Sherry Meyers) Edmonton, daughter Maria (Paul Rostagno) Vancouver, sister Jean in Blaine, WA, and grandchildren Sean, Kent, Antoine and Jasmine, her nieces and nephews, and her dear friends.
A celebration of life will be held March 15, 2021 @ 10am at Trinity Funeral Home, 10530-116 Street, Edmonton, AB.
Graveside service and interment at the Cornfield family plot at Chilliwack, BC.
In lieu of flowers, donations may be given to: salvationarmy.ca