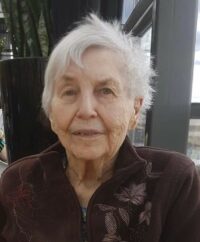 Dorothy Francis Ouellette
January 22, 1931
-
April 30, 2022
Dorothy died peacefully in her sleep at Dickensfield Long Term Care. Although greatly missed by the family, she is in a better place.
Dorothy worked at many jobs throughout her life. She worked at The Bay and the Army and Navy as a retail clerk and in the cafeteria at NAIT. Also as a receptionist for Dr. Brown in Ryley and later in a dental office in Edmonton. In her mid forties, she went back to school to train as a youth worker and spent the rest of her working career at the Yellowhead Youth Center and also giving her home to numerous foster children.
Dorothy enjoyed knitting sewing, reading westerns, sketching and watching curling on TV. She loved to travel and her and her long time companion Bruce, spent many summers at Calling Lake, camping throughout Western Canada as well as trips to Costa Rica. She went with her daughter Rosalind, on a European river cruise, twice with a friend to New Zealand and often went to visit her children who lived in NWT, Saskatchewan and British Columbia.
Dorothy will be deeply missed by her daughters, Theresa(Jerry), Rosalind, Sharon and daughter in law Linda and sons, Nathan and Frank (Verdall). She will be lovingly remembered by her 10 grandchildren and 10 great grandchildren, as well as numerous nieces and nephews. Dorothy was the eldest of five children, all of whom have predeceased her, as well as three sons, Barry (Linda), Francis and Thomas.
A Celebration of Life will be held at a future date