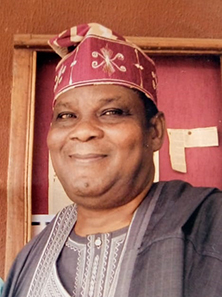 Dr Ayodeji Ogunbayo
July 1, 1954
-
September 19, 2021
Dr Ayodeji Ogunbayo was born on the 1st of July 1954 at his hometown Abeokuta to his parents late Rev Canon Samuel Oludare Ogunbayo and late Mama Dorcas Ololade Ogunbayo.
He attended All Saints Primary School, Osogbo, Osun state. He continued his studies at the prestigious Comprehensive High school, Aiyetoro, Ogun state. On completion of O levels, he was admitted at Government College Ibadan for his lower six education but later returned for the completion of his A levels.
He studied medicine at the prestigious University of Ibadan and graduated with MBBS in 1978. This was followed by one year housemanship with Ogun State health board. He completed his NYSC in Osogbo, Osun state in 1980. He started his work with Ogun State health board in 1980 as a medical officer. He was posted to general hospital at Odogbolu, Aiyepe in Ogun state.
He married his lovely wife, Mrs Olabisi Ogunbayo on November 8th 1980. Their marriage was blessed with children and grandchildren. He was a devoted family man.
In 1984, he moved to establish his private medical practice (Bisayo Hospital Abeokuta). He was passionate about his work and enjoyed caring for people in his community. He touched several lives through his medical practice.
He was a member of the Nigerian Medical Association. He attended St Pauls Cathedral Igbore Abeokuta ,where he was an active member of Fountain of Hope (FOH 21NG) and Cathedral Men's fellowship. He was a Patron of Christian Ladies Companion in the same church. He was also diocesan medical advisor for the Diocese of Egba West.
He received many awards as acknowledgement for his contribution to his community.
He was a caring, kind, meek, gentle, humble and a generous man. His service to humanity and selflessness was outstanding.
He belonged to the following old school /alumni bodies.
• MBBS Ibadan-78
• The Compronians (65/66 – 70/72)
• GCI Old Boys Association
He will be sorely missed by his wife, children, grandchildren, brothers, sisters, family members and all people that interacted with him. He sadly passed away peacefully in Canada on September 19th 2021 surrounded by his family.
Funeral Service
Friday October 1, 2021 10:00AM
Trinity Funeral Home
10530 116 Street, Edmonton AB.
To attend the service virtually, please use the following link:
https://www.legacytributevideo.ca/ayodeji-babatunde-ogunbayo/