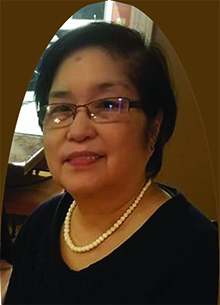 Elisa Razon Punzalan
In Loving memory of our
Mommy Elisa Razon Punzalan
May 21, 1949 – March 4, 2021
A beloved wife to her husband Eduardo, a devoted mother to her 4 daughters and sons-in-law (Monette & Jun, Suzette & Nel, Liezl & JV and Eleine & Chester), a loving Lola Mi to her adorable 9 grandchildren (Pam, Josh, Patricia, Jillian, Cedric, Christian, Camille, Chesca and Mateo), a caring sister to her brothers and sisters. As a former English teacher, she is dearly loved by her students who had considered her as their second mom. She is remembered by her colleagues as their most trusted confidant. She loves music, cooking, traveling and being one with nature. She is the perfect example of someone who would sacrifice everything just to give comfort and love to those who are very dear to her.
~~~~~~~~~~~~~~~~~~~~~~~~~~
God saw you getting tired and a cure was not to be, so He put His arms around you and whispered "Come to me". With tearful eyes we watched you and saw you pass away. We love you dearly but we could not make you stay. A golden heart stopped beating, hardworking hands at rest. God broke our hearts to prove to us, He only takes the best….and you, mommy Elisa is God's golden best.