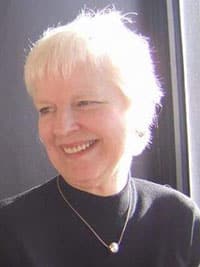 Elizabeth Merle Martin
On December 15, 2018, Elizabeth Merle Whyte Martin passed away peacefully, surrounded by those who loved her. Born April 16, 1940, Merle adored and was adored by her husband Jerome Martin, children Paul Martin and Heidi Martin Jacobs, son-in-law Dale Jacobs, daughter in-law Mona Martin, grandchildren Aidan and Emily Martin, brother Tony, sisters-in-law Annie Whyte, Bonnie Ladner, Cathy Martin, numerous nieces and nephews, and countless special friends.
Merle was predeceased by her parents John Baird Whyte and Marguerite Moore Whyte, her sisters Lynn and Heather and her brother Tom, and her parents-in-law Rose and Paul Martin.
A life-long and proud Edmontonian, Merle attended the University Elementary School at Corbett Hall, Garneau, McKernan, and Strathcona Composite. Her favourite jobs were working in London, UK as a secretary and then in Edmonton for Northwestern Utilities, the Garneau and Varscona Theatres, and the University of Alberta, especially the Department of Botany and the School of Native Studies. She ran her own typing business, typing numerous theses and dissertations, and then went on to found Spotted Cow Press with her husband Jerome. Merle volunteered with numerous groups including the Alberta Ballet Guild, Edmonton Art Gallery, and the Devonian Botanic Garden. Merle loved visual art, theatre, music, dance, photography and film and was an avid and skilled gardener. She loved her gardens of plants and flowers but most of all loved nurturing children and watching them grow.
Merle and her family were exceedingly grateful for the kind and excellent care at the University of Alberta Hospital, especially the superb, sweet, and tireless nurses.
At her request, a small family celebration will be held.
In keeping with Merle's deep commitment to education and her formative time at the University of Alberta and its Faculty of Native Studies, the family has established the Elizabeth Merle Martin Memorial Fund for Indigenous Scholars at the University of Alberta. In lieu of flowers, memorial donations may be made to the University of Alberta. Visit ualberta.ca/giving or send donations payable to the "University of Alberta" to the Office of Memorial and Tribute Giving | 3-501, 10230 Jasper Ave NW | Edmonton AB T5J 4P6, noting your donation is to support the Elizabeth Merle Martin Memorial Fund.