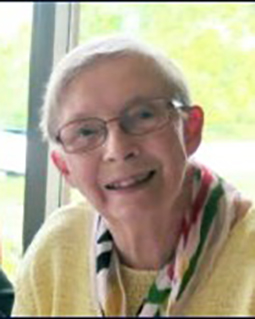 Eunice Maureen Barron
February 1, 1933
-
February 9, 2023
Eunice Barron died on February 9, 2023.
She is survived in England by her sister; Marian Attfield, her nephew Steven Attfield and niece Tina Attfield; and in Australia by her brother John Tumath, her niece Sarah Pfeiffer and her great nieces Madisyn and Mia Pfeiffer.
Eunice was born in London, England and educated in London at Pitman's Secretarial College.  After graduation, she joined a major London accounting firm as Executive Secretary to the junior partner.
In 1960 she married Ken Barron and they emigrated to Canada, where she was employed as the Court Reporter for the Ottawa Juvenile and Family Court.  For 18 months, in 1965-1966 she accompanied her husband to South Africa when he was sent on an international exchange; here she worked as secretary to the Director of the Medical Department of the Council for Scientific and Industrial Research.  Returning to Ottawa, she joined the Canadian Film Institute.  In 1970, Ken was transferred to Calgary and Eunice worked at several part time positions.  Eunice and Ken then moved to Edmonton where she joined the Alberta Cultural Heritage Foundation.
Eunice had a vibrant personality and was a natural organizer.  Taking early retirement at age 59, she devoted her energies to organizing and participating in many organizations.  In 1968, she took up field hockey at the age of 36 and, as usual, became deeply involved.  She coached the Lakeview Community League Junior Girls team for 6 years and the Calgary All Stars Girls team at two tournaments.  She acted as secretary to the Organizing Committee for the Canadian Men's Field Hockey National Tournament, and as Chair of the Organizing Committee for the Canadian Women's Field Hockey National Tournament, both held in Calgary in 1972.  She was then appointed to the Board of Directors of the Canadian Women's Field Hockey Association as Treasurer, a position which she held for 8 years.
Eunice was involved in tennis both as a player and Administrator.  She played for over 70 years at a good intermediate level, winning a number of local events including the Ladies Doubles Gold Medal at the Airdrie, 1994.  She organized inter-club play for the Greenfield Tennis Club for several years, was President of the Greater Edmonton Tennis Association for 8 years and was the tennis representative for the Alberta Sports and Recreational Association, Zone 6 for 20 years.
Both Eunice and Ken developed great interest in indigenous art and over the years built a major collection.  In 1979 Eunice was the founding President of the Inuit Art Enthusiasts (IAE).  Over the years she developed her knowledge, appreciation and expertise in Inuit Art and curated several exhibitions at the Art Gallery of Alberta, The Royal Alberta Museum and the McMullen Gallery.  In 2014 she received the Seniors Association Award for services to Arts and Culture.
As a member of the Faculty Women's Club (FWC), she has been active in many of their interest groups and has acted as coordinator or co-coordinator for the Theatre, Golf, Lunching Out and Art Gallery Tours Groups.  She served as President of FWC in 2009/2010.  Eunice also organized the Dining Out Group for the Association of Professors Emeriti for a number of years.
As a keen photographer, Eunice had a particular interest in wildlife and orchid photography and won awards at the Alberta Orchid Society shows and at the Alberta Senior Citizens Sports and Recreational Association.
A "Celebration of Life" will be held at a later date.
In lieu of flowers, donations to the Canadian Heart and Stroke Foundation would be appreciated.