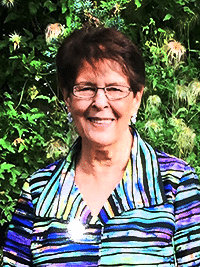 Évéline Thérèse Labonté
It is with great sadness that our family announces the passing of Évéline on November 20, 2019 at the age of 82 years.
Évéline was selfless and completely devoted to her family and close friends throughout her life. She will be deeply missed by her two daughters; Pauline (Mike) Royer, Monique (Jade) Hicks; her two sons; Gil (Shirley) Labonté, Greg (Susan) Labonté; ten grandchildren and one great grandson. She was predeceased in 2015 by our dad, Léonard, her husband of 57 years. She is also survived by three brothers and three sisters and was predeceased by one brother.
Évéline had a rare and wonderful gift of giving her undivided attention to whomever had the good fortune of conversing with her. Even as young children we remember her as the best listener which was a beautiful quality that guided us into adulthood. We also remember how effortlessly she laughed and how much she loved to both give and receive hugs. She worked many jobs to make ends meet and she was fully committed to her family, always loving and willing to make time for her children and their families. She enjoyed many sing-alongs with family and friends while growing up at the family's farm near Beaumont, a passion she pursued with the St. Vital Parish choir. She also volunteered her time to many organizations within the Beaumont area including: the RCMP detachment, St. Vital Seniors' Club, and Place Beauséjour where she lived for the past 13 years. She will be dearly missed by all who knew her.
Évéline's health deteriorated rapidly over the past few months and she was ready to meet the Lord and reunite with our dad. In lieu of flowers, memorial donations in Évéline's memory may be made directly to a charity of your choice.
Maman, Evie, Grand-mère et Gigi, we love you all the way to the moon and back
Memorial Mass
Friday November 29, 2019 at 2:00 PM
St Vital Parish
4905-50 Street Beaumont, AB
Memorial Donations
Charity of Your Choice