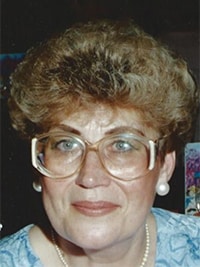 Florence Kaplain (Riley) nee Werenka
March 21, 1934 – June 3, 2018
It is with great sadness we announce Florence's passing following a long courageous battle with cancer, at the age of 84. She will be lovingly remembered and missed by her son Brian (Adrienne) Riley, daughter Loreen (Doug Kennedy) Riley and grandchildren Jason Riley (Chelsea Mowat) and Mia Riley (Ben Lillijord).
Florence is survived by her sisters Vera (Jerry Pagotto) Werenka, Tillie Ostrowercha, Olga (Joe) Blahun, Ann Blahun and brother Russell (Ann) Werenka, as well as numerous nieces and nephews, extended family and friends. Florence is predeceased by her parents John and Agrepena Werenka, sister Love Pohynayko, brother Orest Werenka and Terrance Werenka.
Florence was born in Musidora Alberta, and moved late in her childhood with her family to the farm south of Sangudo, where she completed grade eleven. Eager to experience life in the city, Florence headed off to Edmonton to find fame and fortune. While still in her late teens she started working in restaurants such as the Silk Hat and Seven Seas on Jasper Avenue. Her dependability, sharp money skills, fashion sense, good looks and engaging personality kept her beautiful face in front of customers as a hostess at top dining locations for over 30 years. She greeted customers at the Penthouse at the old Caravan Hotel, The Steak Loft and over a period of more than 15 years, The Empress of China. Florence had two jobs for decades: holding down a full time job at a bank and working after hours at a restaurant.
Florence realized at very young age that while the restaurants might bring in "good money", a young family needed consistency, stability, and benefits. Following some encouragement from a banking lunch crowd, Florence willed herself into employment as a teller with the Toronto Dominion Bank. She finished as Divisional Accountant for Western Canada, when the TD Tower office was transferred to Calgary. With banking still in her blood, she was hired on at Scotiabank and contributed at the 97 Street branch in Edmonton for 13 years.
After retiring from banking and moving out to the acreage west of Edmonton, Florence focused on her passion for gardening. Her hobby became a yearly volunteer commitment at The Devonian Gardens. It evolved from taking a course, to planting seedlings, to working in the gift shop and greeting customers at the ticket booth to eventually sitting on the board of directors for The Friends of The Devonian Gardens.
Florence was happiest working in her flower beds and tending to her plants. Refinishing antique furniture later became one of her many talents and hobbies. She loved to cook and bake and we will miss her wonderful dill pickles and yummy birthday cakes. Spending time with family on special occasions was important to Florence and not a birthday was missed. Weekly visits to play cards with sister Tilley were part of her retirement routine and she always looked forward to sister Vera's annual visits from Italy. Other siblings often got advice from their older sister. She was an avid supporter of her grandson's athletic activities and was always proud of her granddaughter's artistic creations and talents.
Her strength and fortitude were admired by all and she remained independent until the end. The family wishes to thank the nurses and staff at The Cross Cancer Institute and The Villa Marguerite for their outstanding care and attention.
A Celebration of Life will be held at a later date. In lieu of flowers, donations can be made in memory of Florence to: The Cross Cancer Institute: 11560 University Avenue, Edmonton, AB T6G 1Z2 www.albertacancer.ca or to The Friends of the Devonian Botanic Garden: 13040-137 Avenue, P.O. Box 69227 Skyview, Edmonton, AB T5L 5E0 www.friends-devonianbotanicgarden.org