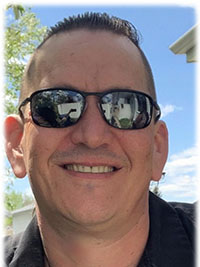 Garnet Lewicki
January 14, 1972
-
April 13, 2021
In Loving Memory Garnet Lewicki
1972-2021
Garnet is lovingly remembered by his mother Margery Lewicki. His children Wyett Lewicki, Ashley Strauss- Lewicki, Brandi (Ian) Strauss and Christopher Strauss. His siblings Brenda (Rick) Noll, Brent (Lesley) Newman, many aunts' uncle's cousin's nieces and nephews. His girlfriend Crystle Rivard and her children Chivez, Shynae, Jayden, Kaella, Kaelee. His grandchildren Harley, Tyrell, Bentley and Lillian-Rose. As well as HIS "brothers".
Garnet was predeceased by his wife Arlene Lewicki, his grandmother Melba Peacock and many numerous family and friends.
Celebration of Life for Garnet Nelson Lewicki
Born January 14, 1972 Edmonton Alberta
Passed Away Tuesday April 13, 2021 Edmonton Alberta
Celebration of Life will be announced at a later date
Dad
I will always remember your Smile and Laugh
The warmth of your arms around me
Your voice telling me it'll be OK
When the demons come
I want you to know
I'll be just fine
The tears will fall
The memories will stay memories
I can't hug a memory
I can never fully say goodbye
Th moments we shared
You held me to my own
Raised me to be
Laughing to know I'm just like you
Will all be held tight and cherished
You held me through the good bad and no matter what
They'll never be another like you
Ride hard and free
Forever daddy's girl
I love you!!!
Written by Ashley Strauss- Lewicki