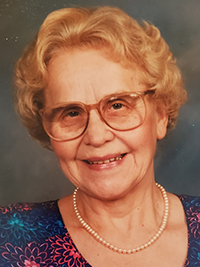 Genevieve Grzesiak
Passed Away
July 12, 2021
March 11, 1924 - July 12, 2021
On July 12, 2021 Mrs. Genevieve Grzesiak of Edmonton passed away peacefully at the age of 97 years.
Left to cherish her memory are her children: Helen (Allan) McLean; Andy and Leslie; grandchildren: Karen (Derek) Harback, Katherine (George) Mamic, Daniel Grzesiak and Ashley Grzesiak; great-grandchildren: Dylan & Kate Harback and Miles & Julia Mamic; her niece Jadwiga (Tom) Overwater as well as numerous relatives and friends in Canada and Poland.
She was predeceased by her husband Stanley in 1989, her son Richard in 2015 and her daughter-in-law Dorothy in 2009.
Many parts of Gina's life were very different compared to what most of us know and accept as normal today. She was born in Poland and grew up during WW2. She was taken away from her family at the age of 17 and forced to work at a tobacco factory for four years. In her twenties she moved to a strange new country (Canada) with a young child (Richard) to join her husband. She had to learn English as an adult. She didn't take any prescription drugs because she didn't ever need them. She got her license at the age of 66 after Stanley died and drove a green Mercedes. She outlived almost all her friends.
Many parts of her life in Canada, however, were similar to ours. She loved to garden. She worked at the old GWG factory and later was a dietary aide at the Royal Alex Hospital. She was active in the Polish community in Edmonton. She liked to camp at Radium Hot Springs. She was a good cook and liked to entertain. She loved her family very much: first her husband and children, then her grandchildren and finally her great-grandchildren. She wasn't fond of cats, but she adored her great-grand dog Morgan.
The pain of arthritis and then dementia eventually took away much of what she enjoyed in life. Through it all she was friendly with everyone and maintained a sense of humor. She often wondered if it would be better to know when she was going to die. Now Gina knows and thankfully her pain and suffering are gone.
In lieu of flowers please consider making a donation to your favourite charity.
Mass of Christian Burial
1:00PM Monday July 19, 2021
Holy Rosary Church
11485 106 St, Edmonton, AB T5G 2P8
Internment
Holy Cross Cemetery
Refreshments and memories will be shared at the McLean house after the funeral.