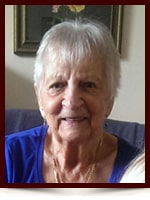 Geraldine Teliske (nee Arndt)
Geraldine Teliske (nee Arndt) born in New Sarepta, Alberta
August-16-1926 – February 15, 2016
Married Alexander Teliske Feb.15, 1947. Together they had 5 children Dianne & (Don) Barry of Kelowna, Lillian (Darryl) Krogen of Edmonton, Gerald Teliske of Medicine Hat, Sharon (Connard) Dillian of Scottsdale, Gloria (Glenn) of Edmonton.  Grandchildren & Great grandchildren Shelley Krogen, Shawna Krogen, Shawn Teliske, Chad (JeanAnne (Olive & Rose)) Teliske, Dustin Teliske, Michael Teliske, Jeffrey Sjulstad, Katherine (Joshua (Cora)) Duncan, David McInnis and Matthew McInnis.
Geraldine will be lovingly missed by her family. She was an avid quilter, and volunteer. She served as President of the ladies auxiliary Strathcona Legion branch 150 and President of Ritchie Community League. She passed away quietly in her home.
At Geraldine's request, cremation has taken place and a private family celebration will be held at a later date.