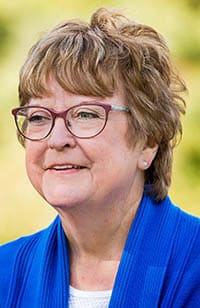 Glenn Ann Patterson (née Dooley)
March 8, 1952 - December 27, 2018
Her family by her side, Glenn Ann passed away peacefully after a courageous battle with cancer.  Her final wish was granted as she was able to spend one last Christmas with her family.
Born in Eston, Saskatchewan, she was raised across Canada as the family followed her father along the rails as a CNR Station Agent.  She attended high school in Melfort, Saskatchewan where she met and married Neil Patterson.  Together they moved and settled in Edmonton where they raised their two children.  Once her kids were in school, her career began with the Edmonton Catholic School District filling many roles including her favorite, a science laboratory technician.
Glenn Ann was predeceased by her parents Patrick and Nancy Dooley and younger sister Aileen Dooley.  She will be remembered with love by her sister Maureen Dooley, daughter Denise Hildebrand, son Jeffery Patterson and his wife Krista, and her 5 grandchildren Taylor, Benjamin and Alexis Hildebrand and Rory and Keir Patterson.  She will also be fondly remembered by her many friends, all those she worked with and the students at Mother Margaret Mary, Austin O'Brien and Holy Trinity Catholic high schools.
In lieu of flowers, donations can be made to the Glenn Ann Patterson Scholarship Fund c/o Mother Margaret Mary High School.
Celebration of Life
2:00PM January 5, 2019
Mother Margaret Mary High School
2010 Leger Road NW, Edmonton