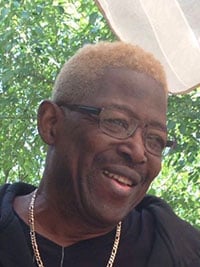 Goddard Francis Casimir
June 9, 1946 - October 25, 2019
It is with heavy hearts that we announce the passing of Goddard Francis Casimir, age 73, on Friday October 25, 2019 at 01:30am at the Grey Nuns Hospital in Edmonton.
Goddard is survived by his wife Janet (nee Romeo) Casimir: his children and their spouses: Tracy-Ann (nee Casimir) and Kirk Rehlau, Michelle Casimir and Colter (C.C) Simmonds, Nathan and Tanya Lemont and Decklan Lemont; grandchildren: Darrieun, Tyrell, Naomi, Eve, Kiera, Marlee, Xavier, and Malakye; siblings: Sharon (nee Casimir) Henry, Kelvin Casimir, Gloria Hubert, Pamela Pariag, Stephen Lewis, Jennifer (nee Casimir) Hernandez, Gemma (nee Casimir) Redman; nieces and nephews: Germain, Densil, Nickier, Renee, Tyron-Marc, Nicole, Jason-Lee, Bernard, Terrance, Kofi, Christian, Alexandra, and all his friends.
Goddard was predeceased by his father Henry Casimir and his mothers Celestina Scott and Monica Lewis; brothers Glen and Trevor Casimir and son Kyle Lemont.
In lieu of flowers, donations in the name of Goddard Casimir's honour may be made directly to the Kidney or Heart Foundation.
The family would like to extend a special thank to the staff at Grey Nuns Hospital.
Visitation
9:30AM Saturday November 2, 2019
Catholic Parish of Corpus Christi
2707 – 34 Street NW, Edmonton, AB
Funeral Service
10:30AM Saturday November 2, 2019
Catholic Parish of Corpus Christi
2707 – 34 Street NW, Edmonton, AB