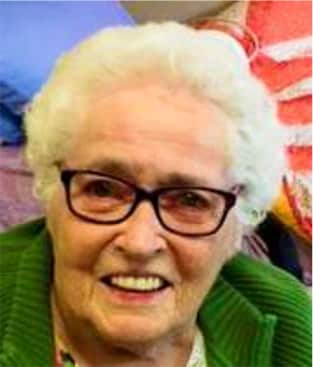 Irene Pearl Moir
On November 8, 2019, after 91 years of grace, humour and struggle, our wonderful, courageous and stubborn Mom, Grandma, and Great Grandma decided to take her travels to new lands.
She leaves behind to honour her:
Son Mark, wife Elsie
Daughter Carol, wife June
Granddaughter Kim, husband Brad, daughters Janaia and Kendra
Grandson Phil, wife Holly, son Alex
Younger brother Stuart,
Daughter from another mother Mae Deans
Irene was born in Miami, Manitoba on August 18, 1928. Irene moved to Victoria, BC, where in 1949 she married and soon had two children. The family moved to the Edmonton area in 1956. Irene worked at a number of different jobs before becoming the Manager of the Control Center at Edmonton Centre for 17 years, until her retirement. Even while working full time and raising two rambunctious kids, Irene still volunteered and made time for her other love – traveling. Irene loved to tell stories about her trips, with her friends in The Friendship Force, to many countries including China, Africa, Norway, New Zealand, Australia and more. Irene volunteered with the Alberta Woman's Institute for over 60 years and was president of the Old Timers Association. In addition, Irene volunteered over a 1000 hours with the Alberta Provincial Archives and gave many hours to the Millwood's Seniors Association and her Waterfront Pointe community. In her spare time she floor curled, bowled and enjoyed many outings to the theatre.
Unfortunately, Irene had a stroke in 2017 and spent the last two years at Holyrood Extendicare. A big thank you to the staff for the love and care of her during that time.
A celebration of Irene's life will be held at Waterfront Pointe, 5204 25 Ave NW on November 30 at 2:00.
In lieu of flowers or donations, Irene would tell you to get off your butt and go volunteer.