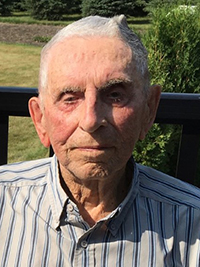 Jack Vernon Wagner
Passed Away
October 12, 2021
With love in our hearts and a lifetime of happy memories we said goodbye to Jack Vernon Wagner on October 12, 2021 at the age of 96 years.
He is survived by his wife of 72 years - Gladys; his daughters: Jacquie (Bob), Connie, Sandy (Conrad), Sherri (Darrell) and son-in-law Mike; nine grandchildren, thirteen great-grandchildren with 2 more arriving soon.
He was predeceased by his daughter Susan and son-in-law Jerry.
Jack will be remembered as a man who loved to take care of his family and enjoy himself with his friends and large extended family. That time mostly involved games of horseshoes or cards with a drink in hand. He loved to have a laugh or two, especially if he could dupe you into believing something. He was a kind man and those who were fortunate to know him could call him a friend. We will all miss him so much.
A celebration of life will be held at a later date.