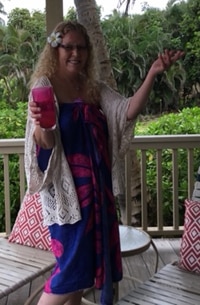 Jacqueline (Jackie) Anne Hiebert
Jackie Anne Hiebert, age 59, passed away peacefully on the morning of November 18, 2020 after a long and brave battle with lung cancer.  She was surrounded by her loving family.  Jackie  was courageous, humorous and strong until the end, inspiring the same courage in us all.
Jackie Hiebert lived her life well.  She was thoughtful, kind, deeply loyal, protective and made all the people that she loved feel very special.  Jackie was determined to be happy, choosing to focus on what was uplifting and lighthearted.  She inspired her family and friends to be happy along with her.  Jackie was the first one to mix a good drink, turn on some music and get everyone dancing.  She had a great sense of humor, a sharp wit and such a wonderful laugh.
Jackie also had a great deal of integrity and lived her values.  She was hardworking, committed to fairness and a smart businesswoman.  She and her husband Wes built a successful business-Climate Control Reefer Service- from the ground up.  They took an early retirement to enjoy their success and spend the rest of their lives having "all the good times" together.  She and Wes enjoyed the perfect life, living between Edmonton and Palm Springs, building a close circle of cherished friends down South.
Jackie is survived by her admiring husband, best friend and partner in crime, Wes Hiebert; her son Brian (Amber); step-daughter Jamie (James); grand-daughters Destiny and Kendra; step-son Jared; grand-sons Jacob and Josh; brother Rob (Donna); nephews Tyler and Tanner and niece Talia.  She was predeceased by her mother Betty Stanhope-Cole and her father Gordon Cole.
A party honoring Jackie's best life will take place in the spring, in response to COVID-19.  Friends and family will be notified at that time.
The family is requesting that donations be made to the Edmonton Humane Society in lieu of flowers.  Jackie was a generous supporter of the Edmonton Humane Society, reflective of her care and appreciation for animals, her favorite of which was the African elephant.