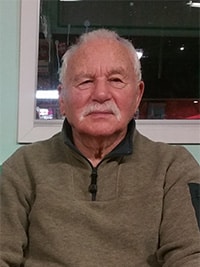 Jakob (Köbi) Joseph Fuchs
On Thursday, August 23rd, 2018 Jakob (Köbi) Joseph Fuchs passed away at the age of just 92.
He is survived by his wife of 59 years, Ann Fuchs and by his children Christopher Fuchs (Jackie), Linda Fox, John Fuchs (Susan) and Annette Fuchs – his grandchildren Amanda, Joseph (Rachel), Sabrinna (Matuesz), Sarah (Jason), Justin (Kristen) and Trisha (Myron). One descendent, his grandson, our beloved Jason, predeceased him. Jakob was hugely proud of his five great grandchildren: Anika, Ayla, Annalena, Easton and Hennesey — and only three months away from meeting the sixth, soon to be born, baby Thomas.
He lived a fully independent life up to his final days. He cherished his homeland Switzerland and was honored to be a Canadian citizen. We'll miss hearing the stories of his early years growing up in the Swiss alps, and his early Canadian experiences as a cowboy on ranches in southern Alberta, as a lumberjack in BC, the Yukon and the Northwest Territories, and as a PPCLI soldier. We miss him deeply.
We are grateful for the care he received at the Sturgeon Community Hospital.