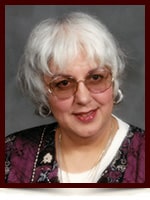 Jennifer Arlene Collins
Jennifer Arlene Collins (nee Coelho ) passed away on June 18, 2017 at the age of 71 after a months long battle with Inflammatory Breast Cancer.  She joins her mother Irene, her father Joseph and various other relatives who pre-deceased her.  She is survived by her brother Joseph (Karen), her sister Elizabeth, her two children Christopher (Hilary) and Hazel (Mike), her grandson Ethan and many friends and relatives, including her ex-husband Ian (Olive).
Jenny started her life in Calcutta, India where she lived with her family until the age of 18 when they left for England to start lives there. She started working in England, in banks and various other administrative positions while in London. During this time, she got married and in 1971 welcomed her first child Christopher.  A couple of years later her new family moved to Edmonton from England, and in 1975 her second child Hazel was born. About 3 years later an opportunity came up for the family to move up to Yellowknife, Northwest Territories.  It was here in the North that Jenny spent a large chunk of her life. For 25+ years, Jenny spent her time raising her children, working at various jobs, including managing a Sears, running an exercise machine business, working in the Catholic School system, and being active in the Catholic Church.
For the last 17 years or so, Jenny had since moved back to Edmonton, where she continued to make friends,  be active in the community and Catholic Church. She joined the Traditional Latin Mass community where she continued to make friends and be active.  Up until her cancer diagnosis,  she also enjoyed working at the St. John of God bookstore, where she could do the things she loved doing - helping people and talking about her faith.
Jenny was well known for her steadfast faith in God and her willingness to make friends.
Funeral Mass
11:00AM Thursday June 29, 2017
St. Edmund's Catholic Parish
13120 116 St NW, Edmonton, AB
Interment
Holy Cross Cemetery
Memorial Donations
Cross Cancer Institute,  the Driver Volunteer program at the Cross, or a cancer society of your choice.