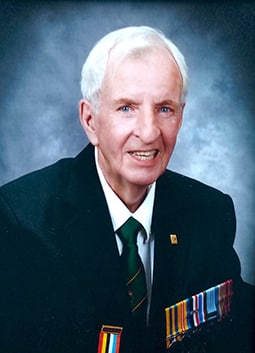 John Lawrence Smith (Larry)
November 30, 1930 to February 13, 2021
Peacefully, Larry passed away in his sleep on Feb 13 at the age of 90.
Larry is survived by his loving wife Maureen, children: Sharon, Chris (Gwen), Brenda, Ron, Laureen and many nieces and nephews. Predeceased by his parents, brothers and sister. Larry was born in Toronto and moved to Wainwright where he met Maureen, married and had his family.
Larry served in the military from 1950 - 1974. A Veteran of the PPCLI, he served in the Korean War with the United Nations Special Forces and received the Korean Medal, United Nations Emergency Force Medal, The Canadian Volunteer Service Medal for Korea, and Canadian Forces Decoration and Clasp. His army service took him to Germany, Japan and the USA. In the proud tradition of Canadian peacekeeping he served in Cyprus and Egypt. Larry traveled in 2010 to Canadian Korean War Memorial Gardens.
Larry resided with Maureen and family in Sherwood Park since 1974. In retirement, Larry visited friends at Cafe Haven and the Sherwood Park Mall for coffee and discussions about sports, politics, and world affairs. Many evenings were spent playing pool, darts, or crib while watching the game on TV. His favorite teams were the Maple Leafs, Blue Jays, and Tiger Cats. He followed the Oilers, Oil Kings, Eskimos and other local teams.
Larry had a strong passion to serve through his lifelong volunteer work. He was actively involved with hockey fastball and curling. Highlights include; Vice President of the Alberta Umpires Association, President of Alberta Major Intermediate Hockey Association and President of the Nor Lake Hockey League. Larry was a proud member of the KVA and a long time volunteer and friend of Bill W. He was instrumental in the planning and coordinating the annual spring roundup and coordinating the yearly supper for the Mills Have Group. No matter how big or small the task, Larry was always there lending a helping hand. In 2018 Larry was diagnosed with dementia. He missed his daily outings but never gave up his pipe!
Our family sincerely acknowledges the care of Dr. Dusang, Leduc Hospital and 9Y General Hospital.
A Celebration of Life will be held for Larry on Saturday February 27, 2021 at 2:00PM.
Due to COVID restrictions the service will be limited to family only but can be live streamed by following the following link: