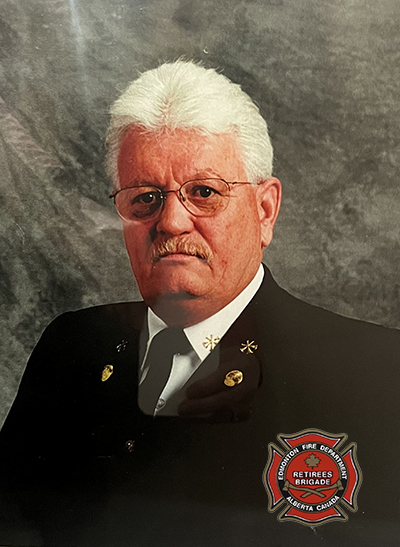 John Maurice Downs
February 15, 1944
-
March 4, 2023
It is with deep sorrow and heavy hearts that we announce the passing of our dad, John Maurice Downs, on March 4th, 2023.
Born in England on February 15th, 1944 and raised in Edmonton, Alberta where he lived for 76 years. He loved Alberta and he was an Edmontonian through and through. Even though his girlfriend, his sister, his two daughters and five grandchildren lived in BC, he refused to leave his hometown. He swore he would live in Alberta until the day he died and that's exactly what he did.
He was a man of his word. He served his community as a member of the Edmonton Fire Department for 35 years and retired as Platoon Chief in August 2002. Not only did he fight fires and risk his life to save others but he also fought for better working conditions and for the rights of his fellow brothers and sisters. He was Treasurer of the Edmonton Firefighters Union for many years.
He was stubborn. He loved a good debate. He loved to gamble. He loved all sports, especially hockey, football and golf. His favourite day was Sunday. He loved to take naps on the couch. He loved dogs. He loved the dollar store, a good cup of coffee, his cigarettes and his Wiser's whiskey mixed with caffeine free diet coke. He loved pistachio nuts, caesar salad and hamburger soup.
He was a sharp dressed ladies man and never ever left his house without perfectly combed hair and after shave - as he would say a splash of cologne was a "Ukrainian shower". He loved his 1972 orange VW Bug he called Punken and he loved to take her for a cruise around town with the windows rolled down and country music playing on the radio.
He loved a lot of things throughout his life but what he loved most of all was Iris, his girls Julie and Jennifer, his sister Pat and his grandkids, Jake, Ivy, Jeff, Ella and Kylee.
We love you Dad. We love you Grampa Downs! Cheers to you and the life you lived the way you wanted to live it.
May you Rest in Peace.
Please join us on April 27, 2023, 2:00 pm at the Kingsway Legion, 14339 50 St NW, Edmonton for a celebration of life to honour our Dad.