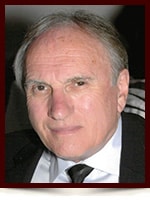 Joseph Dalzell Crothers
Born June 19, 1945 Lisburn, Northern Ireland Passed away: July 22, 2014 Calgary, Alberta
Beloved husband of Annette for 48 years, dearly missed by son Paul, brother Tom (Maeve) and family, sister Hazel (Randy) and family, brother-in-law Mick in U.K., relatives in N. Ireland.  Predeceased by his mother and father, Susan and Tommy.
Arrived in Montreal by ship in 1957 at the age of twelve, with his mother Susan, brother Tom (6), sister Hazel (2) and dog Laddie.  They made their way to Edmonton by train to meet up with Joe's father.
Joe completed his education, electrical apprenticeship through N.A.I.T. and entered into employment with various electrical contractors.  During this time Joe met a recently arrived immigrant from England. Annette and he subsequently married two years later.  Joe and Annette spent a brief period in England where he continued to work in the electrical profession.  A close relationship grew with their new son Paul and Annette's family. On return to Canada the three, Joe, Annette and Paul settled in nearby St. Albert for many years.  Employed with Calgary Power, later known as TransAlta, Joe travelled extensively in Alberta making many friends with his colleagues, many of whom he kept in contact with over the years and are in fact attending here today. Joe forever loved his work and the people.
In his mid-forties Joe set out on a new adventure, consulting through his own electrical company in Calgary. Tough but rewarding, Joe continued with those endeavours until last year.  Joe never officially retired, although he was slowed down in latter years by illness.
In addition to Joe's love and devotion for Annette and Paul he had an ever-enduring passion for music, starting with a simple acoustic guitar. Paul's interest in music was inspired at the age of 3 by his dad and over the years they spent endless hours together playing instruments from their extensive collection. Their music lives on forever.
Funeral Service
August 1, 2014 11a.m.
Beulah Alliance Church
17504-98A Avenue Edmonton, AB
Interment
1:30 p.m. at Westlawn Memorial Gardens