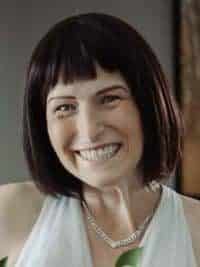 Julie Katherine Witten-Land
Julie Katherine Witten-Land, age 41, lost her battle to cancer on the 20th of January 2020.
She has now been raised in power, received her new body, and gone to be with her loving saviour Jesus in heaven.
She was a determined and fierce woman that lived life to the fullest, to the very end. She thrived on experiences and challenges and wore her heart on her sleeve.
Julie studied Industrial Design at the University of Alberta and was also on the cross-country running team. She was a fascinating mix of both artist and athlete. She ran marathons, ran a business, cross-country skied competitively, and loved to design and paint. She was filled with dreams and had an intense drive to accomplish any task set before her. She valued family and friends and is beloved mother to Nova and Amadeus, and faithful wife to Cameron.
But most importantly, she would want to be remembered for her love for Jesus.
Celebration of Life
1:00PM Thursday January 30th, 2020
Heartland Alliance Church
53105 AB-21 Sherwood Park, AB
In Lieu of flowers, Julie would want donations made to the Adeara Recovery Centre for women. Donations can be made online.