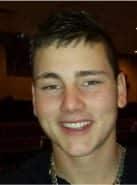 Justin Daniel Anthony Fisher
With deepest sorrow, we announce the passing of Justin Fisher our beloved son, brother, cousin, Uncle, nephew and Friend to so very many.
Justin will be dearly missed by his parents, Kristi and Donny, his big "sea star", Katelynn, his big brother, Devin, his even bigger brother Bryan,  his niece Talia, his Grandma Marg, Aunties: Cindy, Jody, Tammy, Lyssa, and Marion, Uncles: Jason and Dan, Cousins, Zach, Brennan, Kohley, Kassaundra, Travis, Kelsey and Abby, numerous extended family and so many amazing friends.
Justin was pre-deceased by his maternal grandfather Einar, and both paternal grandparents, George and Sylvia.
There will be a celebration of life on January 30, 2020 @ 2pm at Trinity Funeral Home. 10530 116 street Edmonton, AB