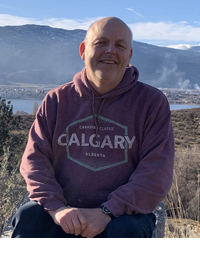 Kenneth Raymond Nastrom
August 25, 1960 – January 24, 2020
It is with great sadness that we announce the sudden passing of Kenneth "Ken" Raymond Nastrom of Campbell River, BC on January 24, 2020 at the age of 59 years.
He will be lovingly remembered and greatly missed by his wife Danita; his daughter Sasha Ruttan (Geoff), and sons Shane Nastrom (Nik) and Cody Nastrom (Amber); his grandchildren Aurora Nastrom, Easton Nastrom, Brooklyn Ruttan, Colton Nastrom, and soon-to-be born grandson; his sister Janice Lawson (Bill), and brother Jim Nastrom (Sally); and his sister-in-law Elsa Herman, and brother-in-law Grant Herman (Karen) and Glen Herman (Becky). He will also be missed by many nieces, nephews, and extended family and friends.
From an early age, he had a passion for fishing and he spent countless hours fishing rivers, lakes and oceans. As he grew older, the Lord called him to be a 'fisher of men' and helping others became even more of a passion for him than his fishing.
He was also an athlete in his earlier years, and happily shared his talent and skill with his children teaching them to ski, play hockey, play baseball, golf, and fish.
He worked in the mining and logging industries, and was self-employed as a professional salmon fishing guide and lure manufacturer. He then transitioned into the oil and gas industry as a safety advisor in northern Alberta.
His wife, Danita, and his growing family were his pride and joy, and he cherished his grandchildren. He was blessed with three grandchildren born three months apart, another soon after, and another will be born very soon.
His family would like to invite extended family and friends to a memorial service for him on February 15th at 11:00 a.m. at Gateway Foursquare Church in Campbell River, BC. Please join us after the service to enjoy social time and refreshments.
In lieu of flowers, donations may be made to the Gateway Foursquare Church in his name, or we encourage you to spend time with your families.
"The righteous man perishes, and no man takes it to heart;
And devout men are taken away, while no one understands.
For the righteous man is taken away from evil,
He enters into peace;
They rest in their beds,
Each one who walked in his upright way."
- Isaiah 57:1-2