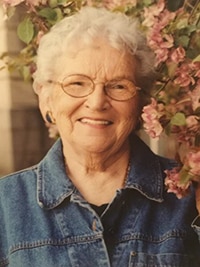 Leona Marjorie Tisdell (Borchert)
MAY 25, 1925 – NOVEMBER 2, 2018
Dear Little Mom,
we bid you adieu
Go spread your sweet wings and fly.
Your Heavenly Father
has been waiting for you,
To His love you can testify.
We're glad for each year
you stayed with us
And we're sad to be saying goodbye (for now).
Mom, though you are leaving,
in our hearts you will stay
We'll never be truly apart.
Our Hope
has become Your Reality….
Forever with God and the family!
We'll see you again,
but remember till then,
Little Mom, we love you so much!
This poem was revised for our Mom
From the movie "Hearts of Christmas"
On November 2nd, 2018 the Gates of Heaven opened wide for our sweet 93 year old Mom.
Leona was born in Edmonton May 25, 1925, the youngest of 12 brothers and sisters.
After completing school she moved to Calgary and began attending First Baptist Church where she met her future husband Harry Tisdell at Youth Group. After a seven week courtship, Leona and Harry married on May 25th, 1945…Leona's 20th Birthday. What a great gift!
Soon after, they started their family…Carman was born in Calgary. From there they moved to Rossland B.C. where Ronald was born, then Trail B.C came Charlene and back to home town Calgary, along came Karen.
Eventually grandchildren arrived then great grandchildren. Although the miles from Edmonton to Texas separated them, Leona loved and was so proud of each and every one of them.
In the early morning hours of January 1, 1984, Harry passed away after a long battle with cancer.
Through the years Leona maintained a deep faith in God. His Love and amazing Grace was her strong anchor in the storms of life. She enjoyed her days sitting in her recliner wearing her headphones soaking up the Gospel music she so loved.
Leona was predeceased by her beloved husband Harry and son Carman as well as eleven brothers and sisters.
She is survived by her son Ronald (Patricia) of Georgetown Texas, daughters Charlene (John) and Karen (Jack) of Edmonton, her grandsons Kelly (Amy) and Kevin (Donna), great granddaughters Brooke and Avery, Brother-in-law Des James as well as many nieces and nephews.
We send our heartfelt thanks and admiration to the staff at the Misericordia Hospital; Dr Abassi and staff at The Rice Geriatric Assessment Unit and Dr Sugars and Staff on 8 East. Your care, compassion and friendship to our Mom is so much appreciated.
Leona had a great sense of humor and sweet smile which we will so miss. She was young at heart and clear of mind. If you would like to share special memories of our Mom we would treasure them always.