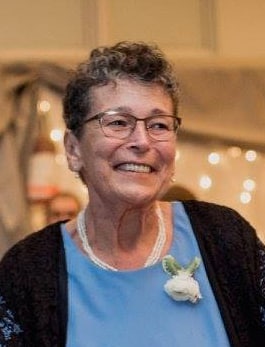 Leslie Patricia Grant
It is with heavy hearts that we announce the passing of Leslie Patricia Grant on October 21, 2020 at the age of 71. She passed peacefully at home after a brief, but courageous battle with brain cancer. Leslie will be remembered by her husband Arden, sons Ben (Amber) and David (Alexandra), sisters Sheila, Mary, and Carrie (Jeff), nieces Emily and Sarah, nephew Evan, and many cousins and extended family in Winnipeg.
She will be remembered for her adventurous spirit and her big smile. She was known for being supportive, encouraging, and living a life full of laughter. She had a big heart and was a helpful soul, always willing to offer sage advice, whether requested or not. She was a devoted mother to her sons and dogs.  In retirement she loved traveling around North America with Arden and their dog Duke, making friends and exploring new places.
A visitation will be held on Saturday, October 31 from 10:00 am to 12:00 pm at Trinity Funeral Home, 10530 116 Street, Edmonton. All are welcome, but we require guests to contact David at dmgrant9@gmail.com to coordinate visit timing due to COVID-19 restrictions.
A private service will follow. We will record the service for those who are unable to attend in person. In lieu of flowers, donations can be made to Boyle Street Community Services.